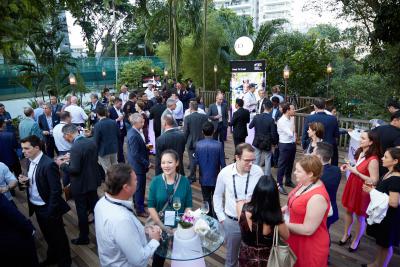 Why attend? Request to Register
Why the SPORTELSummit?
SPORTESummit is an unprecedented conference based networking event, designed only for an exclusive circle of decision makers of the international sports marketing and media industry, that are shaping the business for tomorrow.
This two-day meeting, by invitation only, will showcase an illustrious selection of influential speakers and VIP guests and address only the most current topics, providing participants with relevant insight and an open and unique platform to discuss these industry affairs. The confidential setting of the summit provides the luxury to really meet "Only the Elite" through special networking sessions and events and for building new business relations with real decision makers.
Sessions
Gain full access to all panel sessions, company and sponsor presentations
Networking Events
Exclusive access to all official SPORTELSummit networking events.
Preferential Hotel Rates
Only confirmed participants have access to the preferential rates of the partner hotel (W South Beach).
Networking Tool
This confidential platform helps you to connect with other registered participants, to message and organise meetings, view profiles…
"Black Book"
The quintessential collection of direct contacts to particpants of the SPORTELSummit.
For more information on the SPORTELSummit Law Sessions: contact@droitdusport.com
For more information about the SPORTELSummit and to request to register click here